Compiling forms that are often sent together into packets allows you to streamline the process of assigning documents to patients. Many clinics provided feedback that it would be helpful to have pre-set groupings of forms that are often sent together for different use cases and patient types. The ability to set up packets is only available for users who are set up with practice administrator privileges. In this article you will find how you can create, build, and assign Packets. Here's how it works:
---
Where to create Packets
1. Click on the Practice tab in your EngagedMD dashboard

2. Select the tab on the left-hand side of the page titled 'Consent Packets'. Next, click the teal button on the top of the page that says 'New Packet'. Doing so will bring up a window from where you can create your packet.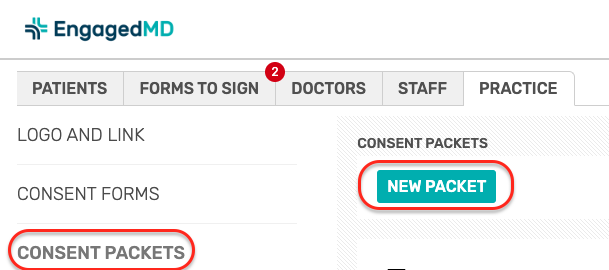 Building a Packet
1. First, you will want to name your packet. For example, if you are sending out all of the forms that are typically sent to a patient before an initial consult, you can title your packet "New Patient Packet".

2. Next, you will have the ability to add a brief packet description. Adding a description is optional, but it can help provide a quick overview of the theme and/or contents of the packet.

3. Finally, you will add forms to the packet. To add forms, click the teal plus sign next to 'Add forms to packet'. This will bring up a full list of the forms you have published on EngagedMD. Select each of the forms you would like to include in the packet, and then click the teal 'Apply' button in the bottom right corner.
4. Once all of the forms that you would like to have featured have been added to the packet, you can reorder the forms however you'd like by clicking down on the three horizontal lines that appear next to the packet name and dragging the form up or down. Forms will be in alphabetical order by default.
5. Forms can also be deleted from a packet's contents by clicking on the red minus button that appears to the left of the packet title. Once your packet is arranged in the way you would like, finish by clicking 'Save.' Remember to publish your packet when you're done and then it will be ready to go!
Assigning Packets
The process of assigning packets is very similar to how you would assign individual forms.
1. Once you have added a patient or pulled up an existing patient record, click 'Add New Form'. From here, on the right-hand side of the window, you will see two columns titled 'Forms' and 'Packets'. Select the 'Packets' column.
2. After doing so you will see a list of all the packets currently set up for your practice. In addition to selecting packets, you can also select individual forms to include within the same envelope.
Please note: Individual forms which are present in a selected packet cannot be selected and sent out within the same packet envelope. This is to ensure that patients do not receive duplicate forms.
3. After you select the packet and additional forms you would like to send, proceed to select the clinical reviewer, doctor, and authentication type. From there, simply press 'Add form' and the forms will be sent to the patient.