Adding a new patient is straightforward, but it depends on your clinic's setup. If your clinic has EngagedMD integrated into the EMR, then patients will be added automatically. If your clinic does not have an integration, patients can be added by following the steps below.
---
Add a Patient
1. Click the "Add Patient" button to create a new patient record
You should add a new patient to the system as soon as you believe the patient is a candidate for treatment – the earlier the educational process starts, the more benefits patients and medical teams will see!
2. Add required information
Required fields
Patient ID (or MRN)
Full Name
Email Address
Should you choose, you also have the option to include the patient's phone number, DOB, or personal ID. Finally, if your clinic utilizes the EngagedMD location feature, you will also be prompted to enter the location site.
Optional fields
Phone Number
Birthdate
Personal ID
Doctor
Users can add a doctor to a patient's record! This is an optional field, however adding a doctor to the patient's record will pre-populate this information when assigning modules or forms, saving you clicks down the line!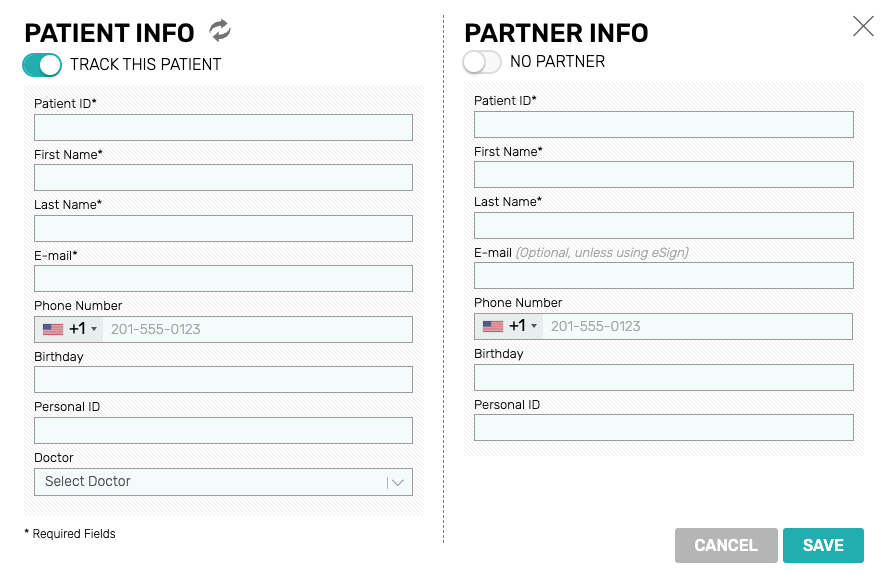 Add New Modules & Forms
After creating the patient record, you are able to add new modules for patients to watch at home, and/or add new forms for eSignature. At any stage, you can return to the patient record to add more modules or forms or edit the patient's personal information.
Important - Keep in mind that you are not able to remove a module once it has been assigned. However, you can change the module status to 'Closed' so that this module is removed from the patient's view when they log in to their EngagedMD portal. If you need additional support with this, please reach out to support@engagedmd.com.